Recently our team has reviewed, and taken your feedback to heart, and have made some changes to the Boy Scout Summer Camp program at Camp Emerson this year. Morning merit badge sessions have been adjusted to accommodate an open program in the afternoon. The open program is identified as the shaded area on the schedule. This open program will allow our Scouts to maximize their time at camp. During open program Scouts can work on merit badges in areas or simply have fun and experience that activity area, participate in camp games, service projects (for service hours) or just enjoy the outdoors. Participation in Merit Badge program areas during open session may be limited by the number of overall Scouts. Many other BSA camps operate this way and this is the best operation and environment for youth to enjoy the summer, learn about the outdoors and enjoy being a kid. Remember all the great things that camp will do for youth just be attending Camp Emerson:
Camp nurtures social skills.
Camp enhances self-confidence.
Camp helps kids unplug and build friendships.
Camp reintroduces kids to nature.
Camp fosters teamwork.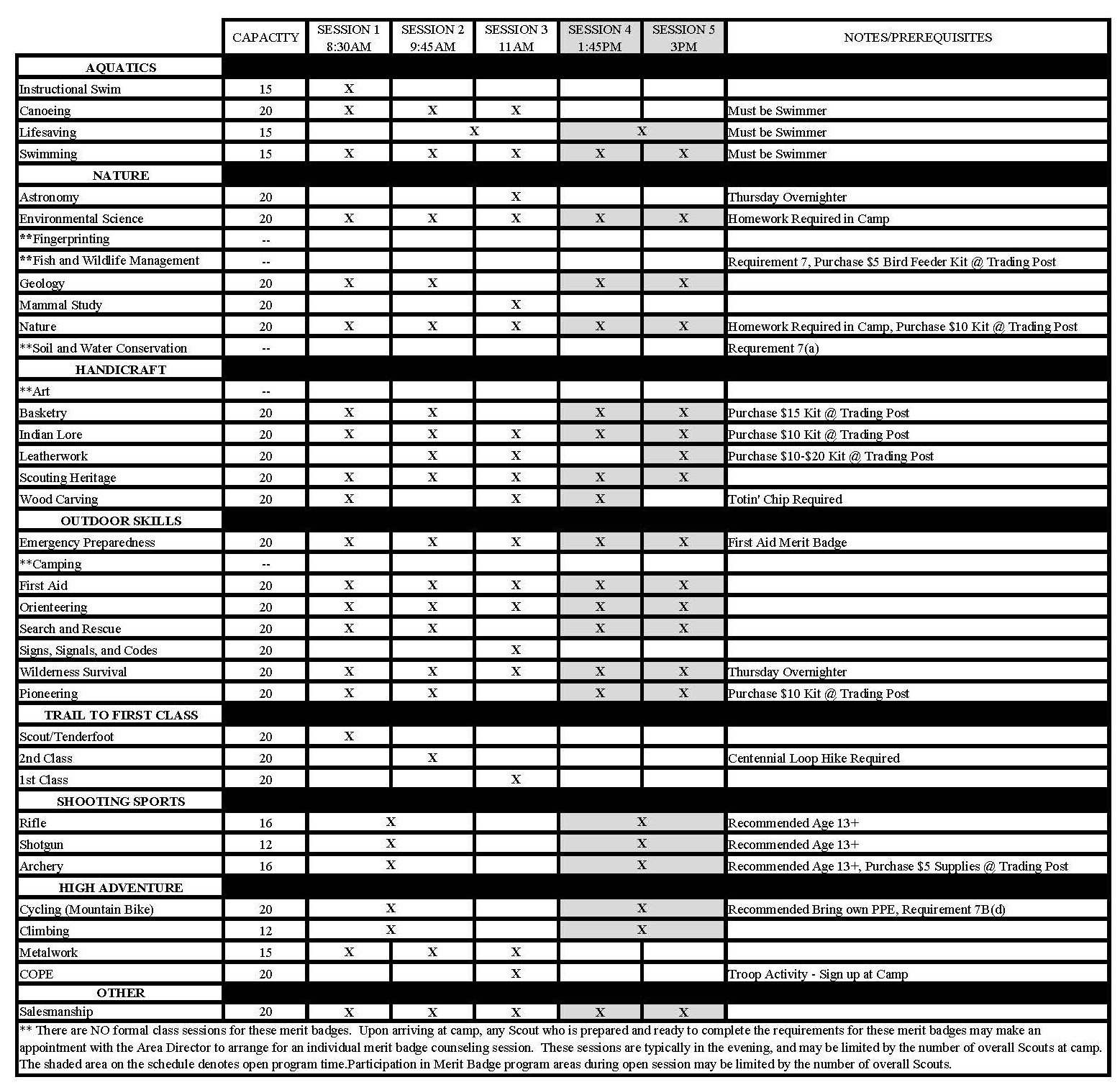 Camp is a place where Scouts interact with people face-to-face and, at the same time, learn about themselves and others around a camp fire, under the stars, or sitting around a dining hall table. Camp allows Scouts the time to dream big and think about their future.
Camps give Scouts a chance to practice being the best they can be. They experience a place designed to create happy memories and encourage self-expression. They have the opportunity to climb, ride bikes, shoot an arrow, and even experience the success of winning the big game! It stays with them forever. Scouts will learn from a full range of emotions and human experiences including homesickness, friendship, disagreements, team work, frustrations, jubilant success, and more.
We are excited about this and know are scouts will be too. We look forward to seeing you at camp this year!
Camp Emerson Merit Badge Sign Up Directions
If you have previously registered your Scouts for Merit Badges we encourage you to review your registration.