Online Training
Online Training is also available here for Youth Protection, Safe Swim Defense, Safety Afloat, Fast Start for Cub Scouts, Boy Scouts andVenturing, Venturing Orientation, Venturing Youth Protection Troop Committee Challenge and Staffing the District Committee.
District Training
The Mt. Rubidoux District is providing a lot of training opportunities.The District Training Flyer is availablehere.
Training Available from the Council and other Districts
There are many training opportunities available throught the California Inland Empire Council.Trainings and dates is available here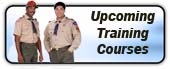 Leave No Trace - and other Resources
Ever wondered how to pee or poop in the woods? Ever wondered how to broach the subject with a friend or kids you are takingoutdoors for the first time in their life? Ever wondered why backpackers seem to love those orange trowels? Wonder no longer...Trailspace has put together ahighly organized and well written summary with lots of useful information.