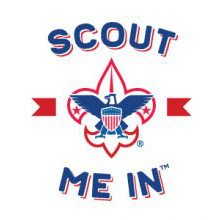 Click here to find out how to join
Council News:
We're excited in the California Inland Empire Council to introduce the new Scout Me In recruitment campaign. Families have told us they're looking for a single program that welcomes both girls and boys, and today's announcement highlights that all kids can experience character-building fun and adventure of scouting.
As we enter a new era for our organization, it is important that all youth can see themselves in Scouting in every way possible. Scouts BSA, perfectly represents the new, welcoming program for older Scouts that the Boy Scouts of America is proud to offer.
On background, Scouts BSA builds on the legacy of the Scout name. The Scout meetings, Scout camp, the Scout handbook, Scouts themselves — we have more than 108 years of heritage and tradition built on the Scout name. The organization name will continue to be "Boy Scouts of America." The BSA will continue to build the future of Scouting with Scouts BSA, as we deliver character and leadership and offer a path to the rank of Eagle Scout for boys and girls.
| | |
| --- | --- |
| Summer Camps! | |